This tutorial will not only show you HTML goodies, but it will also touch on the basics of what a good Website service provider should provide you, along with what to do from there.
State-of-the-art services at a low cost by True Artists Group at La CoffeeMelodie Suite.
Available Services for Offline and Online Productions

Offline Production
Music Movie Video Slideshow CD-DVD Production
Photo Scanning-Restoration-Reproduction
Business Card Flyer Brochure Invitation Card Postcard

Online Production for Web
Logo Icon Favicon Graphic Animation Gif Slideshow Flash Slideshow Banner-Ad Flash Movie Web Video Music Video Photo Touch-Up Audio Clean-Up


Digital Arts Design: CD-DVD-Video-Music-Movie. Photo-Image Slideshow and Reproduction. State-of-the-art services at a low cost. By True Artists Group at La CoffeeMelodie Suite.
When it comes to learning HTML, I'd suggest that you let the process take place naturally, or on a "learn-as-you-go" basis. I didn't know anything about the language until I found my Website service providing company,
SBI
- which not only provides the platform, but also teaches the ropes to its customers who, like me, are green and scared to get into an area where they've never been. They do it step- by-step, not by throwing new and foreign-looking, "alien-like" information at them all at once. It was exactly what I needed to make the transition from "point-and-click" templates to actually building manually.
At this point, if you haven't yet started shopping for your Website platform, you should do so. Once you get into it you'll have a better picture of what we're talking about. This article will be most helpful to those of you who have already started their ventures into the world of HTML tags, even if only for a tiny bit, and are somewhat familiar with how HTML works.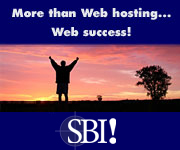 When deciding upon a provider, consider that a good one should start you
from the very beginning
, teaching and giving you the tools for doing keyword searches. -If you don't have a niche, find one. After you have your "hot" keywords ready, think about the theme of your Website, which should lead you to choose the perfect domain name for your site. This part is the core of having a Website that works, and it took me about 4 -or even 6- months to complete. I had to put an invisible restraint on the urge just to skip or get it done quickly, because I learned (from my service provider) how important it is to spend enough time so that I'd do my research thoroughly.
HTML Editor
As different providers offer different things- and yours may stress its importance in other areas- let's get right to when you choose your skeleton template and you are ready to build. If your provider hasn't suggested an HTML editor or two, download a free editor from
KompoZer
or
Arachnophilia
. All serve the same function and purpose. It just so happens that I use Arachnophilia and know my way around inside it pretty well.
You have your skeleton template. -If you don't like the ones that the provider offers, it's easy to find a free template from other sources. Download, unzip if you have to, and save the files (usually they come in three: images, style, and a sample page) in the same folder under the same directory. Now, you can open your HTML editor so that you can start working from your sample page (index page) by opening that in the editor.
With a skeleton template, you should be able to pretty much replace the title : <title>Your title</title> and put in your keywords and description on which you've invested a lot of time, earlier. Put in the correct file name for your style sheet, or it won't look the way it should. -This is why you had to put everything in the same folder under the same directory, see?
You should be able to follow the directions on the sample page. I will take you down to the area between <body> and </body> where your page content will go.
<!--/
I've skipped a lot of details about how to download and save the files, how to open your images, how to make a header, and many other important details, because I want to get right to the subject of this tutorial, which is about learning HTML. I will address other measures in my next articles. You may also jog my memory by dropping me a reminder in the comment box below the article. Thanks, and let's move on.
/-->
Think of your Web page as the front page of the newspaper. It starts with a big headline, with words that draw one's attention. Moving down the page, the smaller in size (and the more details) the content becomes. You have to know, also, how a robot of a search engine will see you. (I hate to bring it up, but this, also, is another topic.) Just for this purpose, only understand that the font size on top of the page has to be substantial.
Headline Sizes
<h1>h1</h1> =
headline 1
<h2>h2</h2> =
headline 2
<h3>h3</h3> =
headline 3
<h4>h4</h4> =
headline 4
In some cases, when it calls for drama, you can type in <font size="+4">font size="+4"&lt/font> for font size +4. Other than that, there are font sizes +1, +2, +3, and, on the opposite side, -1 and -2. -I've never tried -3, but I'm pretty sure it's too small for a pair of eyes in an average human adult in his mid-life to be able to register to the brain; and, therefore, no HTML editor bothers with it.
Did you know that you can make a word stick out by using these directions?
<b>bold</b> =
bold
<i>italic</i> =
italic
<u>italic</u> =
underline
You can also stress beyond stressing....
<b>Did</b> <font size="+3">you</font> <font size="+2">get</font> <i><u>that</u></i><font size="+5">?</font>
Did
you get
that
?
Let me give you a few more samples on style.
These are the ones that I often type in, instead of double-clicking from the editor's pull- down panel.
<br> To move down one line -This is like the "enter" key on your keypad. In HTML page, you need to tell it by "spelling" it out.
<br><br> If you end a paragraph and want to introduce a new thought, you skip two lines- therefore, two of these.
<hr> This give you a visible line break across your page.
I said in my previous article that
Hyper Text Mark-up Language tags
usually show up
in pairs
, as to: if you open the door to a house, it is customary to close the door after you come in. (Right???) Now, there is an exception which allows a few tags to stand alone, <br> and <hr> being a couple of them. Instead of thinking of these as doors to a house that have to be shut, think of a door to a church, a temple or a shelter, that remains always open for all.
My door to this article has to be closed now, as my brain is sore from typing in special characters. -Believe it or not, for the open bracket < to show, I have to type in four characters.- I will add more tags for style in my next tutorial.
That's all for now, folks. Please talk to me if there's any specific tutorial you'd like to see, and I will take it into consideration.
Bye! Have a fabulous day!!
If you're curious, this is what I use:
<font size="+2">Bye! Have a <font style="color:#cc0000">fabulous</font> day!! </font>