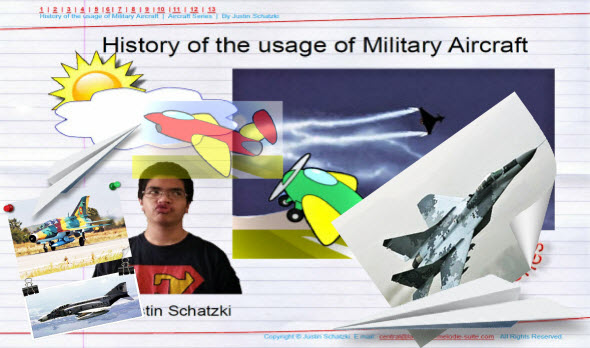 Books-I-wrote: Justin Schatzki's writing. Another way for him to share his knowledge in history, the subject he loves. View his books on the Web, or download the pdf version.
Books-I-wrote
---
I have written many articles, short stories, and essays. Most of the papers were for school assignments; however, some were also for fun. Most of these are about history- World Wars, weapons, military aircraft, and so on. My mother seems to enjoy asking me questions (or at least pretends that she does) and listens keenly to my answers, and she is the one responsible for getting me to write about them.
Sometimes I feel lazy, in which case she interviews and videotapes me. Personally, I believe it's more natural this way: my thoughts can flow without any interruptions from thinking about spelling and grammar mistakes-which, when I'm writing, I then have to correct, which slows me down. My mother transcribes what I say on the video and turns it into something.
Honestly, I'm not sure I really understand why she insists on sharing (what I know) on The Web, but she keeps saying that I never know if and when someone will find the information useful and put it to good use.
I just let her be. The result is some interesting -and, sometimes, even, nice-looking- videos, Web pages, and books. I hope you enjoy them!
---
My Books

There are a few more still in (what my mom calls) the "production process." I will post them as they are ready.
---
Military Aircraft
: History of the usage of the military aircraft from World War I to present day.
"A trail of smoke appears, followed by a tiny object performing rolls and maneuvering strikingly quickly, as it races across the sky. This is a military aircraft.....I will be describing here their participation in the major wars of the 20th century. If you have any questions or comments, please put them forward."
---
To My Siblings' Web Pages
The Brendan Place
Nicholas' Graphic-Animation Tutorials
Kaitlyn's Workshop
Justin: Stuff-that-I-do
---
Return to top