From supermodels and artists to career professionals and families,
our re-touching service boutique adds that little extra to bring out the better you.
About-Photo-retouching-service
About me -part 2
Photo re-touching
Make that special moment more memorable
<<< previously
When it comes to photo re-touching, people have different opinions about how much should be done with their pictures. But let me tell you: for me, the age factor plays quite an important role. When I was young, I could care less about a zit or two, and I felt I looked good no matter what. I hardly ever complained about my head shot and could just close my eyes and pick one. Later, when I was in my thirties and with a few children in tow, and after I had gained quite a bit of weight, I thought, "As long as it is only a head shot, I have no problem hiding my body." I was right, and no one could see below that sweet face with its carefully applied make-up. Then, I met the forties, when it just so happened that so many changes in my life took place. I relocated from the glamorous life of Bangkok, where I was a well-respected socialite, to the quiet life of a housewife in a small town in Pennsylvania. With all the new things happening, I often overlooked that part of my life where I take care of my looks. I was also -and still am- a regular sufferer of and struggler with allergies. My face often shows rashes or small red bumps, depending on what the air brings on any particular day. When I turned forty, I had my first set of head shots taken with a famous photographer that everyone in the business raved about . He was meticulous about applying the make-up on me, and when I looked in the mirror I was very happy with the person smiling back. -She did not at all look forty. We did the session, and he spent four hours taking about two thousand photos. I was so glad that by then he had gone digital; otherwise, the cost of the film would probably have run very deep! The following week was spent inspecting the digital shots. This time around, I noticed that not all were nice enough to be considered passable as an artist's head shot. What a shock! What's going on with the way the camera lens sees me?
"See my work in before &after gallery."
"We offer good quality with friendly prices and fast delivery."
"Please contact me for details about my services."
Video Arts >
Video Ads >
Music Videos >
Video Slide Shows >

Photo Wand
Photo re-touching service
is a part of
La CoffeeMelodie Suite
"Education through various means of entertainment."
Visit our main Website >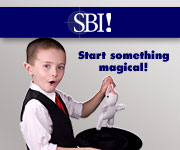 Visit SBI >
Return to top
|
The Foyer
|
Hall of Recognition
|
Home Theatre
|
The Music Room
|
The Studies
|
The Library
|
Creative Room
|
|
Coffee Kitchen
|
Family Room
|
Basement Workshop
|
The Garden Kiosk
|
On The Patio Social Scene
|
In the Neighborhood
|